Ambulatory nursing with Sue Hopkins and Suzie Lewis
A career like no other
Nurses play a critical role in helping our patients heal and providing the greatest possible experience, be it for a 15-minute visit or a 10-day stay. Mindful of the additional stress nurses have experienced since the onset of COVID-19, we strive to continuously support their well-being so they can be at their best while caring for patients. Our Peer Support Program encourages easy, confidential interaction among colleagues, while nurse-to-patient ratios are based on the acuity of the patient.
Top-shelf care with a tender hand
At UW Health our nurses represent the essence of the profession – blending compassion with clinical expertise to ensure patients receive care that supports all facets of their well-being.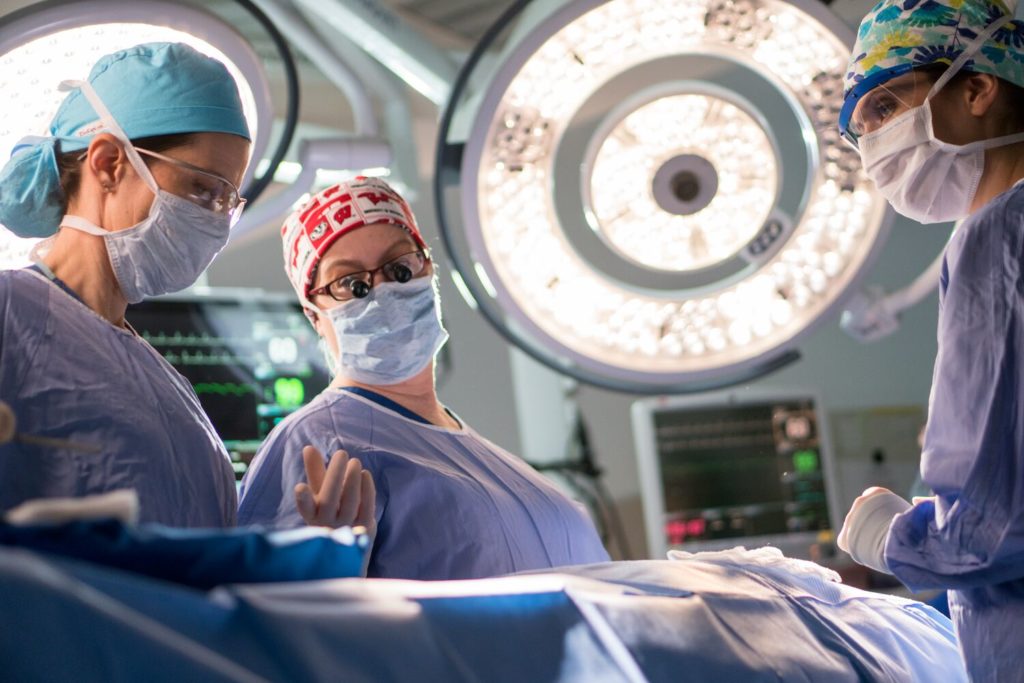 A workplace culture that invests in you
Remarkable care for our patients is fueled by unlimited growth opportunity for our nurses. Not only do we foster many ways to advance your career, but we routinely recognize and celebrate nursing excellence through multiple award programs.
Your voice is heard
Nobody is better positioned to have a say in how care is delivered than our nurses on the front lines. Our shared governance process empowers nurses to affect many facets of their work life, from professional advancement to practice standards and staffing decisions.
Benefits at a glance
A benefits package that's hard to beat
Your life is more than your work. Our full-time and part-time positions allow for scheduling flexibility that aligns with an optimal work-life balance. Employees also may join our Nursing Wellbeing Council, which seeks to continually enhance the workplace culture.
Home to top-performing hospitals
UW Health is home to top performing hospitals in Wisconsin and Illinois, including University Hospital in Madison, which has been ranked Wisconsin's No. 1 hospital for 11 straight years by U.S. News & World Report. Our American Family Children's Hospital is a regional leader in pediatric special care, while in Rockford, our SwedishAmerican Hospital is a leading regional hospital known for high performance in many specialties including cardiology, cancer care and orthopedics.
Your Total Rewards, which combines salary and benefits, is a highly competitive package that few can match. Our health insurance and retirement programs are the envy of many, and our employee health and well-being options help you be at your best as a UW Health caregiver.
Recognizing Registered Nurses
Nursing excellence is recognized and celebrated in our inpatient and outpatient settings through several award programs, including the DAISY Award (honors nurses for remarkable patient care, clinical skills and extraordinary compassion); the Nurse Excellence Award (peer recognition for outstanding patient care and professional practice); and the Nursing Quality Award (based on several metrics, including RN satisfaction and patient experience).
Recent nursing school graduates thrive in our Nurse Residency Program, an on-the-job training that eases the transition from coursework to career in the inpatient or ambulatory clinic setting. Newly hired nurses train for 12 months alongside experienced colleagues, a highly rewarding mentorship that contributes to an average first-year job retention rate of 97 percent — higher than almost all other hospitals. UW Health is home to one of only three Wisconsin nurse residency programs accredited by the Commission on Collegiate Nursing.
UW Health invests in your professional growth as a nurse by helping pay for coursework associated with career advancement. Nurses interested in educational advancement to a bachelor's degree, master's or doctorate are eligible for a generous annual benefit with either full- or part-time employment.
Experience advanced medicine
At UW Health, you'll be part of a leading academic medical center — gaining clinical experience by caring for more complex patients. Our array of medical specialties spans everything from trauma to transplant. Research protocols give our patients access to the latest "bench-to-bedside" medical advances.
UW Health embraces diversity, equity and inclusion in the workforce as an essential way to provide the best care for our patients. We strive to fight racism in all places — not only because it is the right thing to do, but because it helps us better serve patients from all communities.
As those directly involved with delivery of care, nurses are well positioned to contribute many valuable ideas resulting in the best possible experience for patients and optimal satisfaction for themselves. Accordingly, UW Health's shared governance process provides nurses with numerous opportunities to participate in decisions that affect their work. Our eight nurse coordinating councils – composed of nurses who choose to participate – decide policy regarding many facets of nursing, including practice, professional advancement, recognition and staffing.
Delivering the best care to patients is only possible with highly engaged nurses. Accordingly, nurses are asked to complete periodic satisfaction surveys sponsored by the National Database of Nursing Quality. These survey results help UW Health make meaningful changes in all facets of nursing practice and allow for comparisons between results of UW Health nurses and results from more than 460 participating health systems.
Nursing at UW Health
Career upside you can't find elsewhere
Rudy Jackson, Senior VP, Chief Nurse Executive, describes UW Health's unique array of growth opportunities for nurses.